Signum 3.1 Circuit Board Limited run!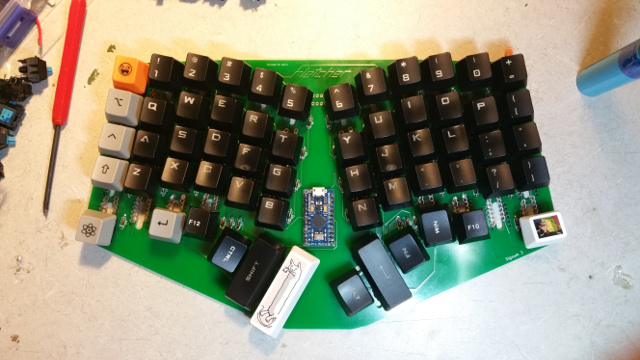 These PCBs are almost sold out!
This is a limited run and will NOT be restocked!
Any orders placed after sold out will be refunded.
Benefits:
Each column supports 5 or 6 switch positions!
Adjust switch height to YOUR by finger lengths
Adjustable thumb cluster with optional 3rd key
Low profile, light weight caseless design
Cable mount to prevent connector damage from accidental cable pulls
Ergonomic typing wrist angle
Now supports Teensy 2.0 and Pro Micro
The first and only Signum with a number row
Programmable with QMK and EasyAVR 😱 😱
The
Signum 3.1 PCB
makes it easy to DIY a ergonomic mechanical keyboard customized to your needs and hand size! Add diodes, your choice of switches (Cherry and Alps compatible), your choice of micro controller, and you're ready to solder!
<! -- paypal thingy goes here --> $65 USD (includes CONUS shipping!)

Order using Bitcoin!

Send me an Email, then send 0.01 BTC to

1MSPX5ha75wpaD3pHquNR71QtQqpJVfAN7

---
Features:
Portable design
Ergonomic typing wrist angle
Ergonomic vertical stagger for finger length
Ergonomic Thumb cluster angle
Built-in cable storage
Programmable
The Signum II represents the latest design of a 40% keyboard I've been building and improving for a while. Some history on the Signum series can be found here.

It's designed to let your arms and wrists be at a neutral position while you work. Less strain means less fatigue at the end of the day, and peak work performance.
---
Order the Signum II DIY kit!
Includes the clear Acrylic Plate, base, multi-size standoffs, feet, nylon screws, and nuts (and spares)!
Handwiring required, trim screws to fit your build!
$120 $100 (includes CONUS shipping)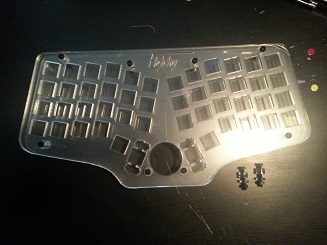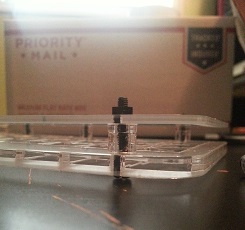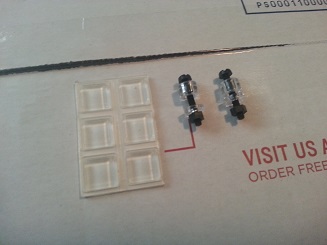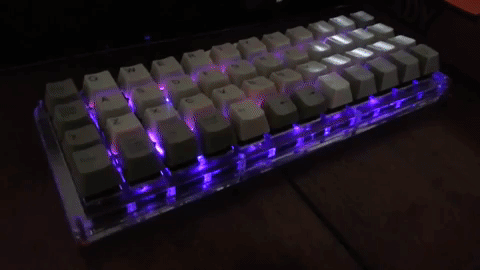 Features:
All clear acrylic design
RGB Backlighting
Programmable
Excellent sound due to thick, heavy case
SOLD OUT!
Request one.
Features:
Constructed from water-sealed 1/8" pressed board
Lightweight design, emphasis on portability
Quiet due to materials
Simple lines, muted colors
Status lights shine through rigid acrylic spacer
Low price
Programmable
SOLD OUT!
Request one.
Features:
Upcycled from an old and dying keyboard
Maticulously cleaned, rebuilt, and painted
Large, sturdy, and heavy; a real workhorse
Standard keyboard layout
Loud due to solid steel plate
Steel plate painted by request, standard is orange
Programmable
Built from my personal affection for the Dell AT101W keyboards, by removing the original circuitboard, and handwiring the switches, this keyboard can enjoy all the features of a modern programmable firmware.

SOLD OUT! Request one.